More Lisp Machine Video
If you see just one lisp machine movie this year, it should be this one (6.5 MB Quicktime MPEG4, 15 MB Quicktime non-MPEG4 which may be easier to play in linux). mirror 1: MPEG4, non-MPEG4; mirror 2: MPEG4, non-MPEG4; mirror3: MPEG4, non-MPEG4; thanks Xach, Dan Barlow and Andreas Fuchs!
Rainer Joswig has made another video (you can see his earlier video here) demonstrating what it's like to use a lisp machine. I think this one gives you a better sense of what it's like in day-to-day use, and why it was such a productive environment that people are still obsessed with these machines decades later.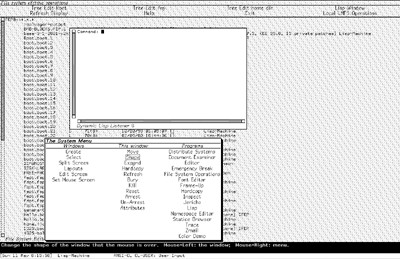 Posted by jjwiseman at May 27, 2003 04:00 PM