Protecting Journalistic Integrity Algorithmically
A couple years ago, when Reuters photographer Adnan Hajj got in trouble for some really bad Photoshopping, I fantasized about adapting Evolution Robotics' object recognition technology and using it to automatically screen news photos for suspicious alterations.
It turns out you don't need something as advanced as VIPR to detect simple cloning/stamping. John Graham-Cumming recently posted code to detect "copy-move forgery," based on a paper by Jessica Fridrich, David Soukal and Jan Lukáš.
Copymove.zip contains Graham-Cumming's code, with a few modifications: I implemented the (big) speedup mentioned in this comment, and I changed it so the code only outputs the single final image containing all copied blocks, instead of multiple output images.
The algorithm is pretty good at detecting the alterations in Adnan Hajj's photos. On the left are Hajj's altered photos. On the right are the results of running the images through copymove.c, with red and blue squares showing the cloned sections.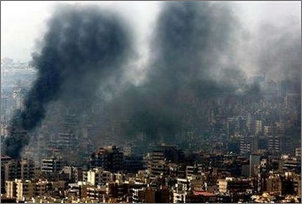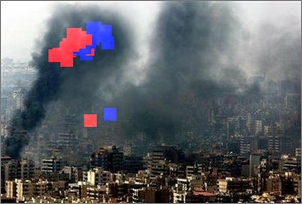 The plume of smoke on the left side of the above photo was pretty obviously cloned, and caught by copymove. The plume on the right has some cloning too, and supposedly some buildings have been cloned.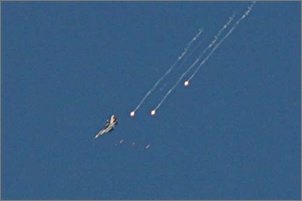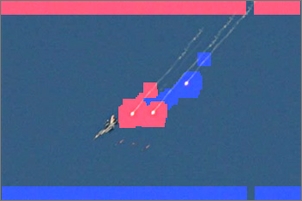 The jet in this photo dropped one flare, and Hajj copied it to create two more. The bands on the top and bottom might be an artifact of the image, or its processing, or the copymove algorithm.
The image below is from a 2004 campaign ad for George Bush. "President Bush's campaign acknowledged Thursday that it had doctored a photograph used in a television commercial and said the ad will be re-edited and reshipped to TV stations."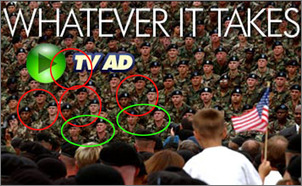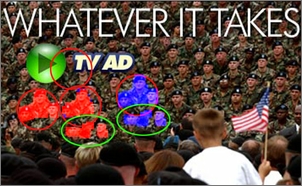 Copymove seems to have correctly identified the clones in the crowd.
What about this magical hovering woodchuck?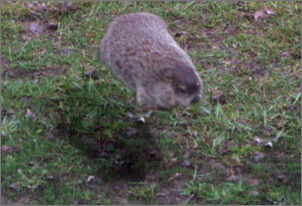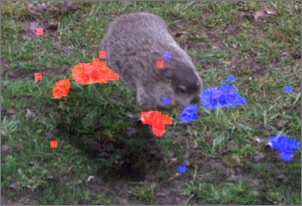 Looks like another assault on photojournalistic integrity by someone with a stubby-little-legs-remover tool.
Unfortunately copymove isn't quite ready to be run on every AP and Reuters photo. The program takes two parameters, a "quality" (blurring) factor and a threshold. I used a quality of 10 and threshold of 20 for most of the images above, but those values don't work for all images. Some images (especially anything with a blurry background) are filled with false positives no matter what settings are used. And finally, I couldn't find an RSS or atom feed containing high quality news photos. (are there any?)
Later: I accidentally uploaded an old version of the code. I've updated the zip file with the right version.
Posted by jjwiseman at February 26, 2008 03:43 PM